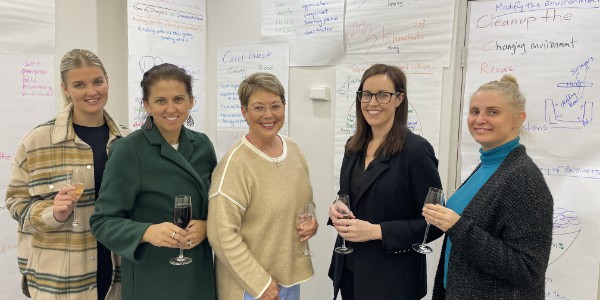 Thirteen years Lucky!
Today we celebrate 13 years of Weekly Thoughts.
I can hardly believe it myself. Cancel Cancel that negative thought.
I am so proud to say I have not missed one week in all that time and today is no exception, so here's your thought.
I was coaching this week with a client, we'll call him Jack, who was explaining how he did his best to reassure one of his employees that everything would be alright. The business is undergoing some changes. The client is a Coach personality and the catch phrase of the Coach is "we'll figure it out".
The employee is a Counsellor type personality and that phrase does not reassure them. The Counsellor wants certainty. The Counsellor wants a plan. The Counsellor wants to know it has been figured out before taking action NOT taking action and figuring it out.
I listened to Jack and when he had finished describing the situation, I reminded him that even though his intention was pure, telling a Counsellor type personality that they'd figure it out was actually a roadblock. It stops the conversation.
It didn't come as any surprise to me that their conversation ended up with the Counsellor walking off, leaving the situation unresolved.
Fortunately, both Jack and the employee have completed my Leading Yourself and Leading Others Experience, so I reminded Jack of the skill of active listening.
Jack's eyes widened as he got the Aha. "Yes, of course. OMG! Right, active listening. I'm going back to work and I'm going to active listen".
Bravo!
So we practised to refresh his skills.
A few hours later I received a text message. "Employee to Jack, 'Are You Shirleying me here?' Thanks. Appreciate you."
That little text message made me so happy. It brought tears to my eyes. It's the reason I do what I do. I want you to be able to listen to each other; to really hear and understand each other and to be able to demonstrate that to each other. I want you to be able to get what you want and to have deep meaningful relationships and conversations with each other.
My belief is that there is nothing that can't be cleared up in conversation. It just takes you to be willing to have the conversation; to revisit the conversation and to listen; really listen to understand what's going on for the other.
We're all different personalities so it also helps to understand that too, both for your personality type and the other.
If you'd like to learn or improve your skills, the next Leading Yourself and Leading Others Experience starts in August. Early bird discount ends 30th June. Click here for more information https://shirleydalton.com/leading-yourself-leading-others-may2020/.
I'd love for you and your team to be able to recognise and appreciate when you're being "Shirley'd".
And to celebrate 13 years of a weekly dose of inspiration, education and support, I am giving away a spot in our next Loyal Lieutenant Masterclass Series. Retailing at $1997, it's a 9 week online course led by me where I teach you my methodology for streamlining operations and you practise and we debrief your work so that you are getting it done during the course.
If this is of interest to you, all you need to do is reply to this email and answer the question, "What do you get out of reading the Weekly Thoughts each week?"
The winner will be announced next week.
Thank you sooooooo much for being part of my community. I am so grateful to you because without you, there would be no-one to write for.
P.P. S. Invite your friends to get the Weekly Thoughts delivered directly to their inbox. Go to https://shirleydalton.com/weekly-thoughts.
P.S. Leading Yourself and Leading Others Experience starts Thursday 3rd August. Save $1,000. Early bird discount ends 30th June. Thursdays, 3rd, 17th, 24th and 31st August. Find out more here https://shirleydalton.com/leading-yourself-leading-others-may2020/.