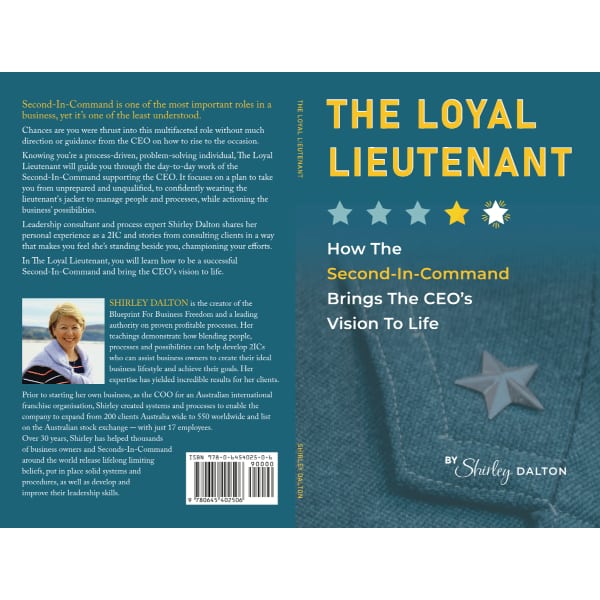 The Loyal Lieutenant: How The Second-In-Command Brings The CEO's Vision To Life
Second-In-Command is one of the most important roles in a business, yet it's one of the least understood. Chances are you were thrust into this multifaceted role without much direction or guidance from the CEO on how to rise to the occasion.
Knowing you're a process-driven, problem-solving individual, The Loyal Lieutenant will guide you through the day-to-day work of the Second-In-Command supporting the CEO. It focuses on a plan to take you from unprepared and unqualified, to confidently wearing the lieutenant's jacket to manage people and processes, while actioning the business' possibilities.
Shirley shares her personal experience as a 2IC and stories from consulting clients in a way that makes you feel she's standing beside you, championing your efforts.
In The Loyal Lieutenant, you will learn how to be a successful Second-In-Command and bring the CEO's vision to life.
ORDER YOUR COPY NOW!
It's one thing to have a visionary in your company. It's another thing to have a Second-In-Command (2IC) who's going to make the vision happen. In my opinion, the Second-In-Command is the most important person for a visionary. They allow the vision to come to life and for everyone part of that vision to benefit from it.
It's beautiful to watch your vision come to life and for every stakeholder to benefit from being part of the business ecosystem you've created. That's what's happened to me, thanks to working with Shirley.
I've known Shirley since 2005 and she's done it all, from small start-ups, to internationally listed companies and everything in between.
If you're aspiring to be the Second-In-Command of the next business to break through, scale and become an employer of choice, you need to buy two copies of this book. One to break apart and take copious amounts of notes on, and one to always keep with you.
Shirley is the mentor you need. The lifelong lessons she brings to the table will save you a decade of trial and error.
Mark Kentwell, Chief Vision Officer PRD Presence, Henderson Advocacy and Real Business Engine
The Loyal Lieutenant was so easy to read – great font size and layout and able to be read in a day
Jordyn Ode
Practical Leader Membership Offer
*SPECIAL OFFER* As a book owner, you will be given special access to the Practical Leader Membership program for only $49/month (usually $99/month). With a blend of practical training and live mentoring sessions twice a month, it will take the skills you've learned in Processes and further develop in the areas of People and Possibilities. Grab a copy of the book now!
The Loyal Lieutenant is an outstanding guide to achieving excellence in business relationships and structure. I finished reading it this week. I got a lot of great content out of it. Congratulations on the book. It was a fantastic read.
Josh Logan-Pye