Work with Me Leadership Training
When your people and your systems are working FOR your business instead of against it…
You'll finally build a successful business that's independent of whether you're there or not.
I know you
And I know you're smart and capable (even if your current situation sometimes makes you doubt it!).
I know this about you because it's those smarts and capability that have brought you this far: you're running a multi-million dollar business that employs more people than you can count on both hands.
In short: You're running a massively successful business.
Which is why you're so frustrated to find yourself struggling with things like this —
You feel like you're micromanaging and nobody seems to do what you ask
Getting things in place is a constant battle, and you feel like you have to do it all yourself
You're working night and day and it feels impossible to get perspective or to get on top of everything
By this point, you might've figured out that getting your systems and processes under control is the way forward.
You've heard that systems set you free.
But there's another part to that truth that's equally important:
The reality is, systems are run by people.
You can't have one without the other.
While it would be nice to wave a magic wand and hey presto! all your people are magically following the processes you've laid out and taking ownership for their roles and responsibilities…
…You've probably realised there's no miracle cure or silver bullet for that.
But there is a solution.
The thing is, while your skills and identity as a person who makes things happen and gets stuff done are strong, your identity as the leader of your business needs some work.
Don't worry – that's not your fault.
It's not as though you woke up one day and thought,
"Hey, I'd like to start my own business so I can develop my leadership skills!"
But at this stage of your growth, the not-so-sexy fact is that…
Leadership skills, coupled with mastering your mindset, are the exact parts of the equation that will get your people and systems actually… working.
When you finally have the ability to lead your people in a way that empowers them to get the job done and become effective leaders themselves, taking responsibility… everything changes.
When you finally have the mindset skills to approach conversations that result in sustained transformation… everything changes.
When you finally have the confidence to take time away from the business and trust that whatever happens, your team can handle it…everything changes.
The value of developing your people and systems as you develop your own leadership and mindset is priceless for your business. Because once you
Have staff you can actually delegate to,
Stop the revolving door of people into and out of your business
Use systems that result in a consistently high-standard of service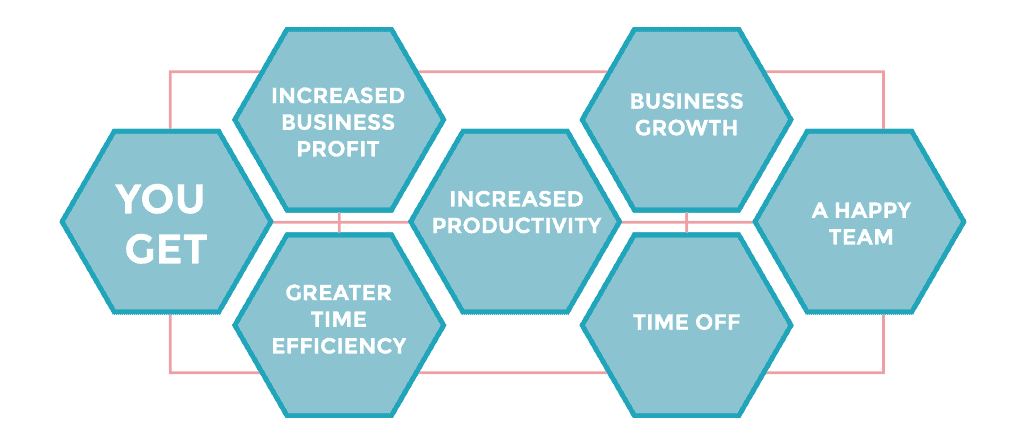 If you're currently a stressed-out business owner, this means:
Being able to focus on expansion without wondering how you're going to keep up
Being able to take consistent days off without the guilt or worry that you're 'shirking' your responsibilities
Being able to CHOOSE whether you're present in the everyday operations of your business, and having the option to sell or retire if that's what you want.
I wasn't enjoying running the business and I didn't really want to be there. Basically I would have liked to have been living on a boat and finishing off a novel I had started. Shirley asked, "Why don't you?" I had a hell of a lot of reasons. I couldn't afford it. I'd never be able to get rid of the business. There were 1000 reasons why I couldn't. After talking with Shirley for a half hour or so, it popped in my head, really was there a reason I couldn't do this?
Six months later I was sitting on board a beautiful catamaran, a Dolphin 46, cruising the Caribbean with my family and living my dreams.
Thanks to Shirley there is no way in the world I would have been there at that time. I might have made it sometime in the future, but without speaking to Shirley on that day, there is no way I would have made it at that time.
Steve Doyle
The good news is: developing the systems, leadership and mindset skills that will get you from here to there isn't a mystery
And while it could take another decade to figure out how to hone and implement them in your business, it doesn't have to.
In fact, where you're at now puts you in exactly the right place to master these skills and fast-track your way to having a successful business with highly effective people and systems.
My zone of genius is the ability to look at people and systems together because the reality is — systems are run by people and you can't have one without the other.
I didn't believe it was possible for me to be able to take any time off from the business, let alone an extended vacation. Shirley taught us how to be more assertive. She taught us how to listen; how to ask for what we want and how to lead and manage our team. She helped us to map our processes, create clearly defined position descriptions and develop policies and procedures. She also challenged us to set the goal and tell everyone what we wanted. Well we are here living the dream and having a fantastic time. So many stories from a month travelling ….and still a month to go. Here is a photo taken outside our closest pub. You may recognise the name.
Mark Scanlon, Managing Director, Parker Scanlon Pty Ltd
I've spent the last 21 years supporting business owners who were once where you are now, to achieve this very thing. This success isn't off-limits to you.
Here's how we'll make it happen:
Through my personalised expert guidance and support, you and I will work together to get your business' systems, processes, and people making money for your business and creating time and space for you.
You'll get to know yourself and your people in a whole new way.
You'll develop your leadership and mindset so that you're able to understand and communicate with your people.
With your new way of leading and thinking, you'll be able to develop systems that work for you. And your people will be following your effective processes with competence.
This work is the most effective way to transform your business from completely running you, to finally having the freedom and lifestyle you've been missing out on.
Every conversation you and I have will help you get unstuck and move you closer to finally having the freedom to step away from your business
Via phone or Zoom, we'll have a private call twice a month. As well as this, you'll receive access to my best resources to give you insight into your personal strengths and styles as a leader, so we can leverage these as you develop your systems and people.
With your knowledge about your business and customers, and my expertise in people, systems and mindset, together we come up with strategies to help you achieve the outcomes you're looking for.
I'll be asking you the right questions — the kind of questions that leave you with a whole new insight and understanding for what to do next and how. You'll be looking at your unique challenges in a whole new way.
Which means you'll walk away from each of our calls with something you can actually implement.
I always walk away from my calls with Shirl with something to implement. She focuses me each session to pinpoint what is holding me back in real time and guides me quickly to find easily implemented solutions to suit my time and budget restrictions. Every single session helps me create time and mental clarity to grow the business and work/life balance in a tangible sense. Thanks Shirl.
Lisa Gilbert, Owner, Marine Outlet
I've spent the last 21 years supporting business owners just like you
I genuinely care about you and your business. This is part of what makes me so effective at what I do.
I get it. I know what you're dealing with, and I've helped all my clients through the same or similar challenges as you're facing. So I know that it's possible to get your freedom and life back, even from where you are right now.
I get these results, not from 'telling' my clients what to do. But from actually taking the care to understand you and your situation and expertly guide you from there.
Mike Smith, Regional Manager, Northrop Consulting Engineers
My support is right for you if:
You take responsibility
You're committed to implementing what we talk about
You're open to feedback
You value direct communication
You're growth-minded and up for learning
You're ready for your business to not require so much of your time and energy
You want to develop the systems and people for your business to succeed sustainably
You and I will work in partnership, we'll collaborate. But I can't do the work for you.
I'm not here to document policies and procedures, but I can consult on the best way to go about this (so you don't just end up with a bunch of word documents or videos that never get used/implemented!).
You have to be willing to take action between our calls to bring the changes to life — you're the kind of person who makes things happen already, so I know the main issue here is the time it takes to implement. But…
When we work together, you'll go from wanting things to change, to knowing what to do each step along the way to create that change.
You'll be able to prioritise the changes that will have the greatest impact, which will create the time you need to actually implement and see results.
Shirley was able to go in and start documenting my procedures. And in the process of that, she'd be asking: "How come you do that? How come you do that?" Through working with her, she was able to help me get an extra day a month of time, to do with as I pleased.
Meg McNaughton HR Lawyer
It all starts with booking your personal 'aha!' moment.
This is a free 30-minute call where the focus is solely on helping you get unstuck.
This isn't a sales call. Just 30 minutes of you and me working through one of your current obstacles.
I kept in touch with Shirley and there were a couple of times when I just didn't quite know what to do and I was able to call on Shirley and she would ask me the questions to get me to answer my problem, which has just been amazing. Quite often, after a half hour chat with Shirley, I'd walk away thinking that was so easy, why was I struggling with this?
Steven J Doyle, Author
Shirley goes to the heart of the matter, is gentle but strong and does not let you off looking where you need to, and yet do not want to go. Want to move mountains in an hour then working with Shirley is a must. If you really want to get out of your grungy horrible situation spend an hour with Shirley.
Janet Dougherty, Corporate Trainer and ExceluCoach
Frequently Asked Questions
Will this work for my situation/industry?
Over my 21 years working with clients, I have worked with business owners and leaders in real estate, surveying, occupational therapy, speech pathology, NDIS, financial planning, massage therapy, bridal jewellery,  network marketing, dentistry, electrical, solar, travel, accounting, mortgage broking and many more industries. 
What happens on the call?
During our time together, we focus on the areas you most need to create change in – whether people, processes or the possibilities for yourself or your business. I will help you work through what the challenge or block is, how to overcome it and next steps to implement.
What if I know I already want to work with you?
Your personal 'Aha!' will give both of us the opportunity to see if this way of working together is the best fit for where you're at. You can book in your Aha here: https://shirleydalton.com/aha/
How long will it take to get results?
The simple answer is that it's difficult for anyone to guarantee results for any business owner and it would be misleading of me to suggest I could. The power lies with you and how you use the information.
However, you will always walk away with some level of results that will change the situation you're currently in.
How long it takes to reach time and money freedom will depend on your business, your systems, your people and, most importantly, your own definition of freedom. My aim is to make the goals you set realistic based on your current situation, but still allowing you and your business to stretch to the next level.
I'm happy to report that my clients have been able to achieve amazing results throughout their business AND their life.
Lindy Harris, Owner, Lindy Harris One Agency