If you're not using video to market your business, you're missing out. This week we talk with Actress, Expert in Camera Confidence for Entrepreneurs, Founder of The Authentic Entrepreneur and Creator of the VIBES Method, Ali Faulkner who shares how to get in touch with your authentic self so you can show up confidently on camera and connect with your audience, generate leads and grow your business.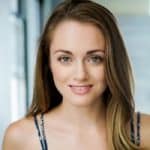 Ali has spent the last 15 years acting on stage, film and TV. She has been in such films as Twilight: Breaking Dawn and The Song, now on Amazon Prime, and most recently, an upcoming film called T for Taj Mahal.
With a background and expertise in communications and marketing, she also helps entrepreneurs develop the skills they need to authentically and confidently share their message on camera so they can start getting their message out to their ideal clients with highly effective videos.
Ali is the founder of the VIBES method, which is a framework that allows entrepreneurs to become deeply rooted in their authentic message, giving them confidence in front of the camera, and helping them create messaging that resonates with their audience on a deeper level so they can build an audience and grow their business, and ultimately, create transformation with their work.