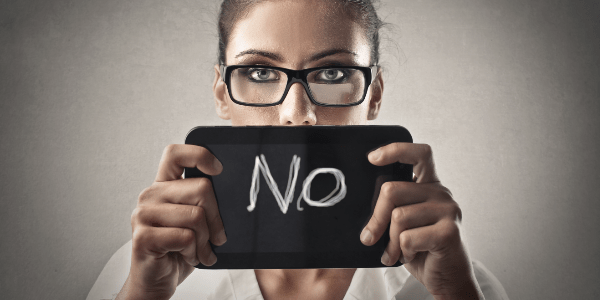 If you're like me, I'm guessing you don't like to hear the word "No" when you make a request.
In fact, I don't know too many people who do, unless of course, they have read "Go For No" by Richard Fenton and Andrea Waltz, but that's a whole other Weekly Thought.
Today, I want to focus on understanding what's behind the "No".
Salespeople are taught to keep questioning until they understand the reason for the "No" and then, if they can, help the prospective customer overcome their objection, to make the sale.
I'm intrigued that we don't do this with our employees.
For most of us, we simply get frustrated and do our best to either convince our employees or worse, order them to do what we want.
This week I had the opportunity to observe an employee's reaction to a request to hire more people.
"No!"
"Why not?"
"If we do, they won't stay."
"Why won't they stay?"
"They want a permanent position."
The penny dropped for me when I heard this. The employer was offering to hire a "casual" employee. I knew that the employer wasn't attached to having a "casual" employee, rather they were looking to find the best solution to ensure that clients were being looked after without overworking or overwhelming the current employees.
"What if we offered permanent part-time, instead of casual?"
Now we got an entirely different response.
Name, I can't stress enough how important it is to listen, really listen to understand what people are telling you.
The misunderstanding here, like most misunderstandings, occurred because we hold a different perception.
Your job this week is to understand the "No".
What's really behind the "No"?
I encourage you to put your "Patient Hat" on (patient as in giving someone time, not seeing a doctor – just so we're clear) and take the time to really listen and understand the "No".
You might be surprised at how quickly you get to a "Yes".
Want to get the Weekly Thought delivered direct to your inbox (every Friday morning Aussie time)? Register here: https://bit.ly/sdweeklythought