Blog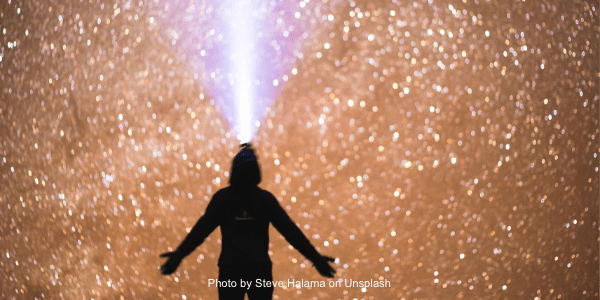 Merry Christmas (if you celebrate it), and Happy Holidays if you don't.
One of my favourite things to do is to read and on Christmas Day I almost devoured this book "Light is the New Black – A Guide to Answering Your Soul's Calling and Working Your Light" by Rebecca Campbell (2015). Ross gave it to me and I love the fact that in the book she writes how whomever is reading this book, whether they bought it for themselves or found it on a bookshelf or received it as a gift, our higher self called it forth. Thank you Ross. Thank you Universe!
There was a page in the book that I want to share with you. Headed "Don't Dim To Fit In", it really resonated with me and I think you might like it as well.
"Don't dim your light to accommodate someone else's smallness. We are all born to shine big and bright. The Universe is expanding and you are part of the Universe, so expanding is part of your nature.
"If someone makes you want to retract, notice and slowly back away, they are not for you and you are not for them. Or better yet find it within yourself to expand and shine your light anyway. Flowers don't open and close according to who is walking by. They open and show their beauty regardless." (p86)
I love the last two sentences.
On page 140, Campbell also writes, "The world will only acknowledge you to the degree that you acknowledge yourself." 
Wow! I must have heard something similar to this, hundreds, if not thousands of times before and yet today for some reason, I really heard it. It landed. So, I made a decision. I'm going to be a flower and let my light shine regardless of who is walking by. In other words, for me, letting go of the fear of being rejected, of not fitting in. Fact is, I never have fit in. I even wrote about this a few weeks ago and here it is again. I'm trusting I am not the only one who needs to hear this message.
So, what will you do with this information? Will you be inspired to come out of the closet and start sharing your gifts or will you read it, nod in agreement and file it away?
I do believe the Universe is ever expanding and it's our turn to play, too.
The more you shine your light, the more you inspire us to do the same. One simple way to start shining your light is to do more of the things that "light you up"; the things you enjoy. For me, that is writing. I love to write and so I am committing to writing more, just for the sheer fun of it, without any expectation of where it may go, etc.
What lights you up? Will you commit to doing more of that in 2020?
As we head into the new year, I wish you a year of shining lights. Happy New Year! May it be everything you want it to be and more.
Cheers,
Shirley