Blog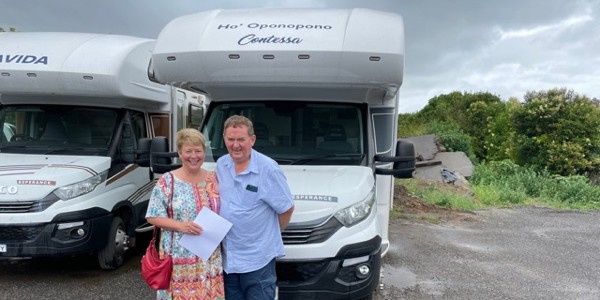 Yesterday was a day of mixed emotions for Ross and I.
It was the day we said goodbye to our beautiful Contessa, our home for almost 3 years as we travelled around Australia.
It was sad to see her for the last time as she sat in the dealer's yard, knowing that this was the end of another chapter and adventure for us.
And we are also extremely grateful for such an easy sale.
Life is always working for you, even though at times it may not be to your preference.
Having returned to Newcastle to run a leadership experience in November/December, we had initially planned to return to South Australia. We figured we had another 2 years before construction on our apartment would be completed.
As it turned out, we were extremely lucky that Contessa had been booked in for a service and was still under warranty (by 3 months). The service centre found that there had been water damage from a fault in the plumbing design and if out of warranty could have cost some tens of thousands of dollars to fix.
The service centre was also completely booked out for about 6 months so we would have had to have found alternate accommodation.
Fortunately, we had made the decision to stay in Newcastle for the 2 years and had found somewhere to live. The dealership also offered to buy Contessa provided the repairs would be covered by warranty.
Wow! Who could have known that?
Indeed, on the morning of the day Ross was taking her to Sydney for her service, I felt an overwhelming sadness as I emptied our contents. "Say goodbye to Contessa Ross", I said. "She's not coming back."
"What do you mean she's not coming back?" asked Ross. "Of course she is, she'll be back in a few weeks."
"No she won't" I continued. "She's going to be sold, so say goodbye."
Little did we know that morning that that was exactly what was going to happen.
She didn't come home and she was sold and today I took one last look and one last photo of our amazing girl who sheltered us and shared our wonderful adventure for the past few years.
Life is always working for you, even if at times, it's not to your preference.
What's happening for you?
Have you noticed lately that you "know" things before they occur?
What preferences are not pleasing you at the moment, that could ultimately turn out to be for your best?
I'm so very thankful for the time we had with Contessa and the travels and adventures and I trust her new owners will love her as much as we did.
P.S. Invite your friends to get the Weekly Thoughts delivered directly to their inbox. Go to https://shirleydalton.com/weekly-thoughts.