Blog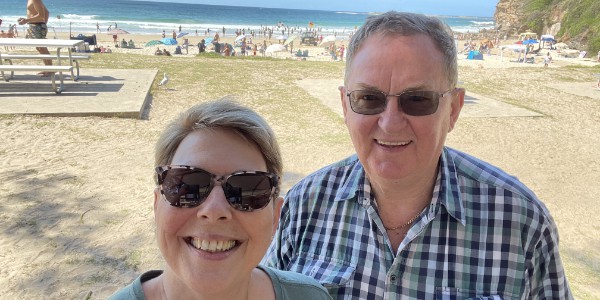 Last weekend Ross and I decided to go for a motorbike ride.
We love the beach so thought we would head down the coast and have breakfast.
It was a beautiful morning until we arrived at the destination to find that the café appeared to be closed.
A lady was walking her dog as we got off the bike.
"Excuse me, do you know if the café is open?" I asked.
"I don't", she replied. "Even though the lights look they are on and I'm a local, I don't know."
"Oh well, not to worry", I said.
She thought for a minute, then said, "Actually, the surf house around the corner has just opened up a little café and a lot of the locals go there. The food is pretty good."
"Great! Thank you" and we hopped back on the bike and rode around to the surf club.
It was amazing.
We had a table with a view straight out to the beach and the ocean. We were in the shade and a gentle breeze was blowing.
We could people watch, water watch and dog watch.
The food was basic but good and the service quick (which I would have preferred to be slower so I could have stayed longer).
As I sipped my coffee, feeling very relaxed, I was grateful.
Thanks Lady. I was so grateful for her information and sharing and I couldn't help but think about how much locals know, how much they know about where they live and how often, many of us are too scared to ask.
In my experience I have found most people will answer you if you speak and most are very happy to share what they know about their community.
So, if in doubt, ask. Don't be afraid to ask a local.
Be mindful that if you are intimidated to ask, it could be a sign that you might have a limiting belief that is limiting you from all sorts of helpful information and acquaintances.
W. H. Murray, puts it this way in his Commitment poem, "A whole stream of events issues from the decision, raising in one's favour, all manner of unforeseen incidents and meetings and material assistance, which no man could have dreamed would have come his way."
I'm curious, let me know what you've learned when you made a decision to do something and had the courage to ask a local.
P.S. Invite your friends to get the Weekly Thoughts delivered directly to their inbox. Go to https://shirleydalton.com/weekly-thoughts.
P.P.S. Our next Loyal Lieutenant Masterclass Series starts end of March 9:30am-11:00am, Sydney time for 9 weeks. Check out https://shirleydaltoncourse.com/webinar