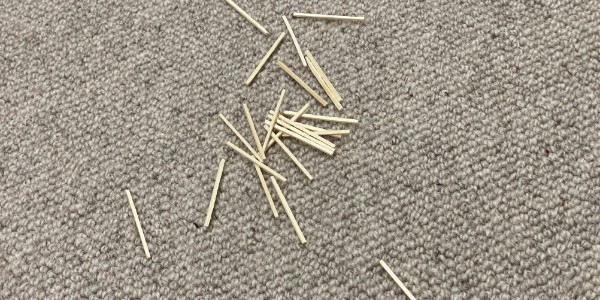 Last week I shared an activity that we do in the Leading Yourself and Leading Others experience. This week I'd like to talk about the aha's and outcomes that participants gain from another activity.
Whilst not sharing the details of the activity, I am hopeful that this week's thought will get you thinking about how you make decisions.
The activity is called "No Thinking Is Required, Only Action". Participants are given a set of matchsticks and some instructions to complete the activity.
They can ask for help if they need it.
Insight number 1 – most won't ask for help.
Insight number 2 – if they do ask for help, they get feedback. If they choose a correct match they hear someone clapping. If they choose an incorrect match, they hear nothing.
No thinking is required, only action.
Often participants sit and look at the puzzle trying to work it out. This just wastes their time.
Similarly, many people, mostly the Advisor and Counsellor type personalities have to think about things before making a decision.
The activity demonstrates that making a decision (i.e. choosing a match) allows for feedback. Feedback helps make the correct choice more quickly.
What's your decision making strategy?
Are you a thinker or a doer?
Remember Aristotle's advice, "The thing we think we need to know how to do before doing, we learn by doing."
Just to reinforce the message, I remember working for Kip McGrath and in a relatively short time, he told me how much he enjoyed working with me because "I could make a decision".
I didn't quite understand. "What do you mean", I asked.
"Shirley, it's not bad decisions that send companies under", he replied. "It's not being able to make a decision that sends them under. You can make a decision. I like that and if it's not the "right" decision, we just make another one", he answered.
No thinking is required, only action. Take action towards the thing you want and look for the feedback. If it's not going in the direction you want. Make another decision. Take action.
Life is full of feedback. Your mission this week is to be open to it.
No thinking is required, only action.
P.S. Our next Leading Yourself and Leading Others experience starts Wednesday 10th May 2023 in Newcastle, NSW, Australia. For more info go to https://shirleydalton.com/leading-yourself-leading-others-may2020/.
P.P.S. Invite your friends to get the Weekly Thoughts delivered directly to their inbox. Go to https://shirleydalton.com/weekly-thoughts.