Blog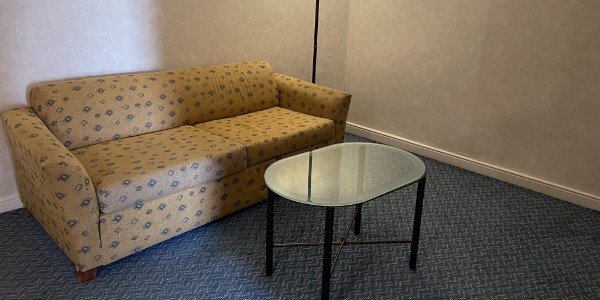 This week was an exciting week.
I spoke at the conference and launched my new book and I got to use some great skills I learned from another book, "Never Split the Difference: Negotiating As If Your Life Depended On It" by Christopher Voss and Tahl Raz.
We arrived at our accommodation about 8pm and checked in. We parked the car, took our bags to our room and were immediately disappointed.
"This won't do", I said to Ross.
"Why not?" he asked.
"Because, I specifically requested a room with a lounge (sofa)".
Dragging our bags with us, we returned to reception.
"I'm sorry. This room is unsuitable", I told the receptionist.
"What's wrong with it?" she asked.
"I specifically requested a lounge and there are two beds and no lounge", I answered.
She looked at the computer and made a few mouse clicks and said, "I'm sorry, we are fully booked and we don't have any other rooms available".
"You'll have to do something", I replied. "I'm speaking at the conference tomorrow and I have to prepare tonight."
She looked again and told us they were booked out. I repeated that they would have to do something. She said she would get the manager.
The manager arrived and immediately started to give me all the reasons why I couldn't change my room. They were fully booked. The weather was bad and some rooms had water damage and and and…….
I thought I'd practise what I'd learned from the book, "Here's my problem", I said.
Then I proceeded to tell her that I was speaking at the conference the next day. I had specifically paid extra for a room with a lounge etc. etc.
She seemed to change her stance.
She looked up the computer and found a room. She asked the first receptionist to go to the room and see if it had a lounge.
It did.
The manager decided to move someone else and we took the room with the lounge.
I'll never know if it was the fact that I was speaking and could have told my story to the audience the next day or the fact that I started with "Here's my problem" or a combination of both. Whatever the reason, we secured a room with a lounge. It's not the best room, however it does have a lounge.
Next time you get told "No", I encourage you to calmly start with "Here's my problem" and without emotion, explain your predicament. See how you go and please let me know.
P.S. Now that my book has officially launched, you can order your copy here, https://shirleydalton.com/books
P.P.S Dates for our next Leading Yourself and Leading Others experience have been set for May in Newcastle, NSW.   Tuesday 3rd May, Thursdays 12th, 19th and 26th May.  For more information go to https://shirleydalton.com/leading-yourself-leading-others-may2020/
P.P.P.S. Invite your friends to get the Weekly Thoughts delivered directly to their inbox. Go to https://shirleydalton.com/weekly-thoughts.