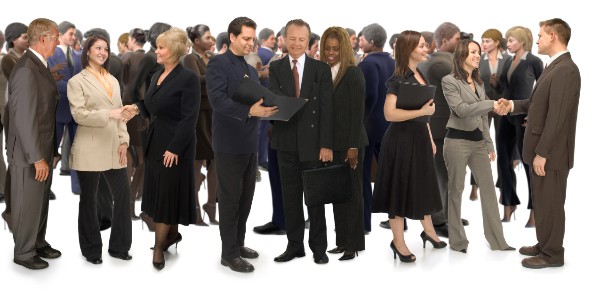 Since we've been back in Newcastle (after selling the motorhome), I've attended a number of networking events and have even been a guest speaker at some.
When I first started my business, I used to get teased by my colleagues. They would say that I would go to the opening of an envelope. Hahahaha, although I did attend a lot of networking events.
Networking is a great way to meet people and promote your business, however it helps if you know the etiquette for networking.
It's not polite to thrust your business card in someone's face. It's not polite to harass guests to work with you. What does work is to go with an intention to be helpful to the people you meet.
How you show up at an event influences what people think of you and what they say about you. How you behave impacts on the impression people have of how you do business.
If you are consistent in your attendance and you find ways to help people, you'll be rewarded with a great reputation and many many referrals, many of which you may receive years after you've been in touch with the referrer.
Just this week, I started working with another fabulous client. She was referred to me by a colleague that was in the same BNI group as me about 16 years ago. It has been over 3 years since I was in personal contact with the referrer and thankfully she reached out to me via Facebook so I was able to reconnect with her and thank her for the referral.
It's all about networking. Networking in my opinion is about helping people. You might introduce someone and recommend another colleague. You could provide some resources that are helpful or you might just make someone feel comfortable.
I remember attending a luncheon for a Lifeline fundraising event. Marlena Jeffreys was the guest speaker. Marlena was the wife of the then Governor General. She told us of her experience attending Princess Mary's wedding to Prince Fredrik in Denmark. She was teaching us how to network.
She said, "Look for the person who is standing by themselves and looks a little lost. Go and talk to them and make them feel comfortable." As she was waiting in the reception area, she noticed a lady standing by herself, so she thought she would go over and introduce herself. "Hello, I'm Marlena Jeffreys from Australia", she said. The lady smiled and bowed slightly and said, "And I'm the Queen of Norway."
You don't know whom you might meet at a networking function nor where it might lead. Thanks to the Lake Macquarie Women in Business Network, I've connected with some long time business pals and rekindled some great relationships.
It's so good to attend a function and be able to smile, wave and hug with people you know. Your Community. We certainly missed this sense of belonging and familiarity whilst we travelled to places with people unknown.
It's all about networking.
P.S. Invite your friends to get the Weekly Thoughts delivered directly to their inbox. Go to https://shirleydalton.com/weekly-thoughts