In this fascinating interview with Alliance Virtual Offices CEO Frank Cottle, we take a look at the workplace of the past and the work space of the future. Discover what it means to have a flexible and mobile workforce and the benefits to your business as well as the 3 keys to owning and running a successful global business in the future.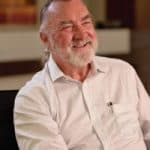 Frank Cottle is CEO of Alliance Virtual Offices and the Chairman of the Alliance Business Centers Network. He is a recognized expert on flexible working, the virtual office movement and "third place" working.
Prior to creating the Alliance brand, he successfully operated his own portfolio of business centres in multiple locations across North America.
He has spent almost the past 30 years delivering business services that are finely tuned to the workplace needs of startups, entrepreneurs and growing SMB's.
Over the years, he has worked with tens of thousands of business owners, and coupled with a unique global management perspective, has became the go-to authority on flexible and remote work.