Join us this week as Melanie Powers, CEO and Founder of Power Finance and Head of Bookkeeping for Xero Accounting Software in Australia shares her journey as a taxation accountant, business owner and now voice of the industry to Xero. Find out how to systematize and automate your business processes, especially accounting and inventory. Gain back time, improve efficiencies and profitability. As a small to medium business enterprise you are not alone and as you listen to Melanie share her story and what she learned, you too can implement the learnings into your business.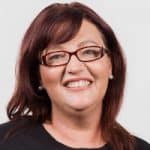 Melanie Power has been involved in the Australian small business sector since 1992 when she began a bookkeeping business. She has owned and managed several other small businesses – in the IT industry, the motorcycle industry, and finance brokerage – but always maintained a passion for software-based systems and processes for small to medium enterprises.
In her role as Head of Bookkeeping for Xero, Mel is the voice of the industry to Xero. Mel is passionate about raising the profile of accounting practitioners globally and showcasing the value they bring to helping small business, especially how accounting practitioners use their understanding of the financial data to help small businesses make informed business decisions.
Mel is proactive in helping bookkeepers grow in the digital age of cloud technology, developing the Xero Grow Your Practice education series for bookkeepers. She currently owns a successful accounting practice in Newcastle, Australia.